Classic | trade fair design
A cutting-edge trade fair presentation for Schubert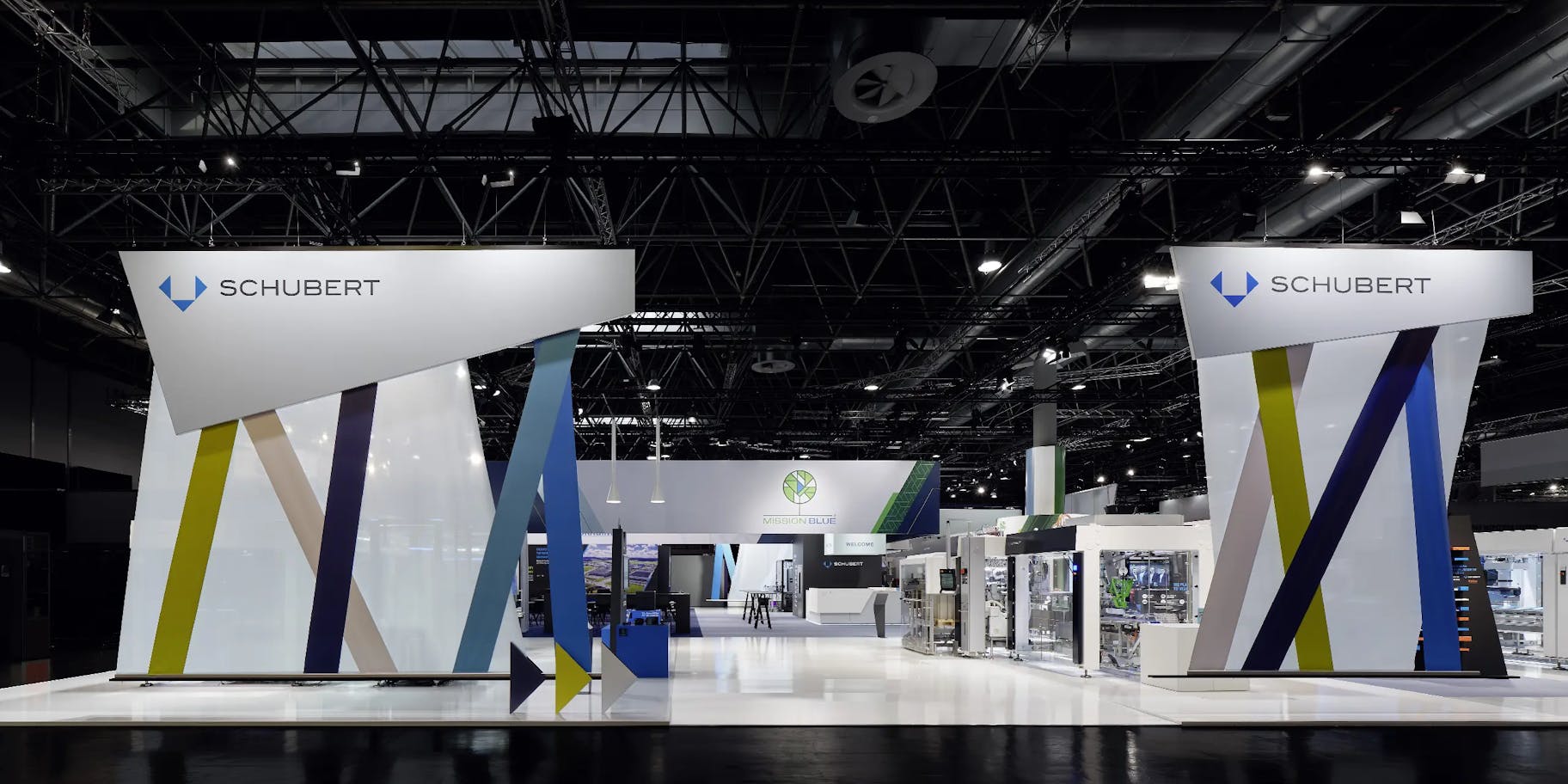 Mechanical and systems engineering
Interpack 2023, Düsseldorf
The client
As an innovation driver and technology leader, packaging machine manufacturer Schubert has been shaping the international packaging industry for more than half a century. With custom robot-based systems for FMCG manufacturers, the Schubert Group has been setting standards in terms of efficiency and flexibility.
The assignment
With its participation at the world's leading trade fair for the international packaging industry, which was held for the first time in six years, Schubert aimed to build on its previous successful trade fair presentations. For many years, the Ruess Group has been developing Schubert's trade fair design, which has already won several awards worldwide. This year, the objective was to present a multitude of technical innovations on the one hand. And on the other, the Schubert exhibition stand not only had to present the topic of sustainability in a transparent manner, it also needed to be implemented in a way that was as sustainable as possible. Special focus was placed on personal dialogue with potential customers and a fittingly inviting atmosphere on the stand.
Services
Overall responsibility
Development of trade fair concept and architecture for the interpack and subsequent trade fairs
Trade fair design, trade fair graphics, animations
Supervision of all disciplines
Interdisciplinary networking – all from one source: worldwide communication about interpack with a trade fair campaign in international trade media (print & online), LinkedIn and Google Ads, social media, newsletters
Press conference on the 1st day of the fair at the stand including personalised press talks on site
Press kit with 6 press releases and a fact sheet for the international trade press
Trade fair landing page on schubert.group to promote the interpack, with banners on the homepage and each individual page as well as interactive elements for lead generation
Trade fair presentations for the 'magic' machines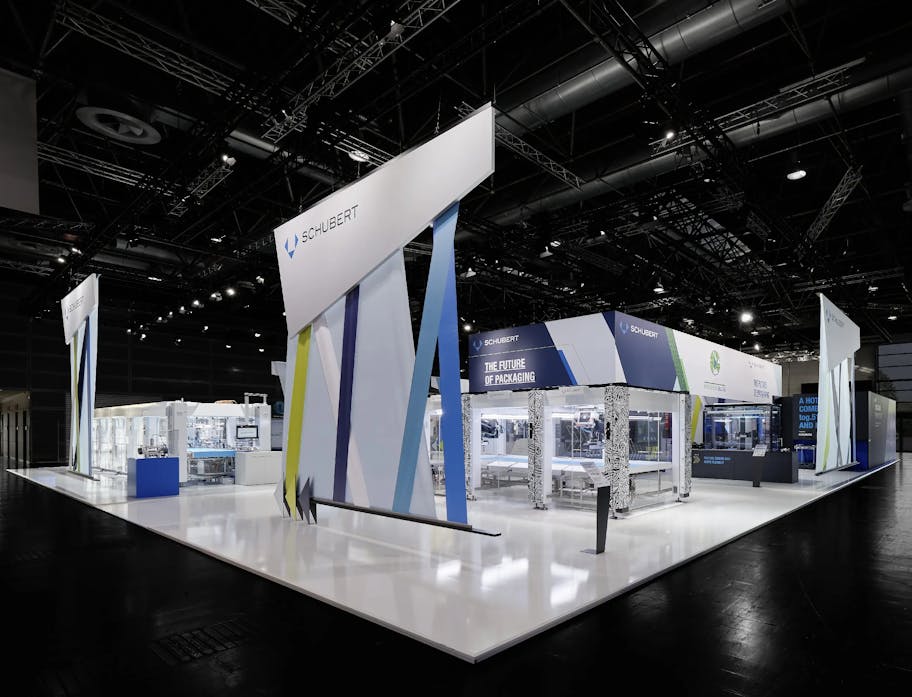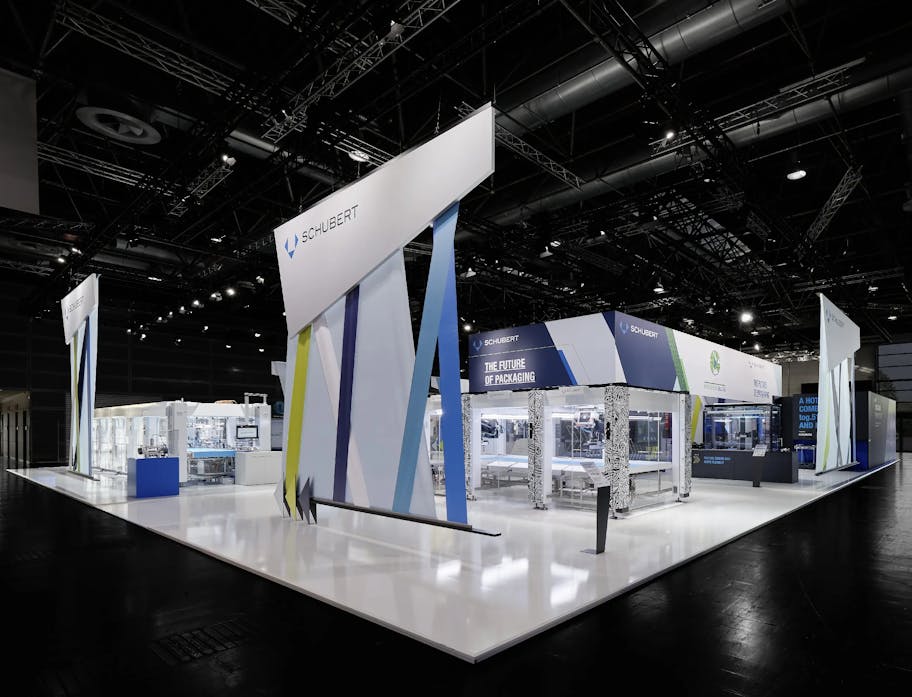 Trade fair presentations worldwide, from Chicago and Shanghai to Paris and Milan as well as Nuremberg and Düsseldorf
50-800 sqm
In the spotlight: 4 large packaging lines
Diverse diagonal lines underscore the brand's dynamism and future orientation
Sustainability: suspended textile banners used as large space-creating elements; all stand elements are dismantled and used several times internationally
Concept, planning, tendering, construction and budget supervision, trade fair graphics, media – all from one source by the Ruess Group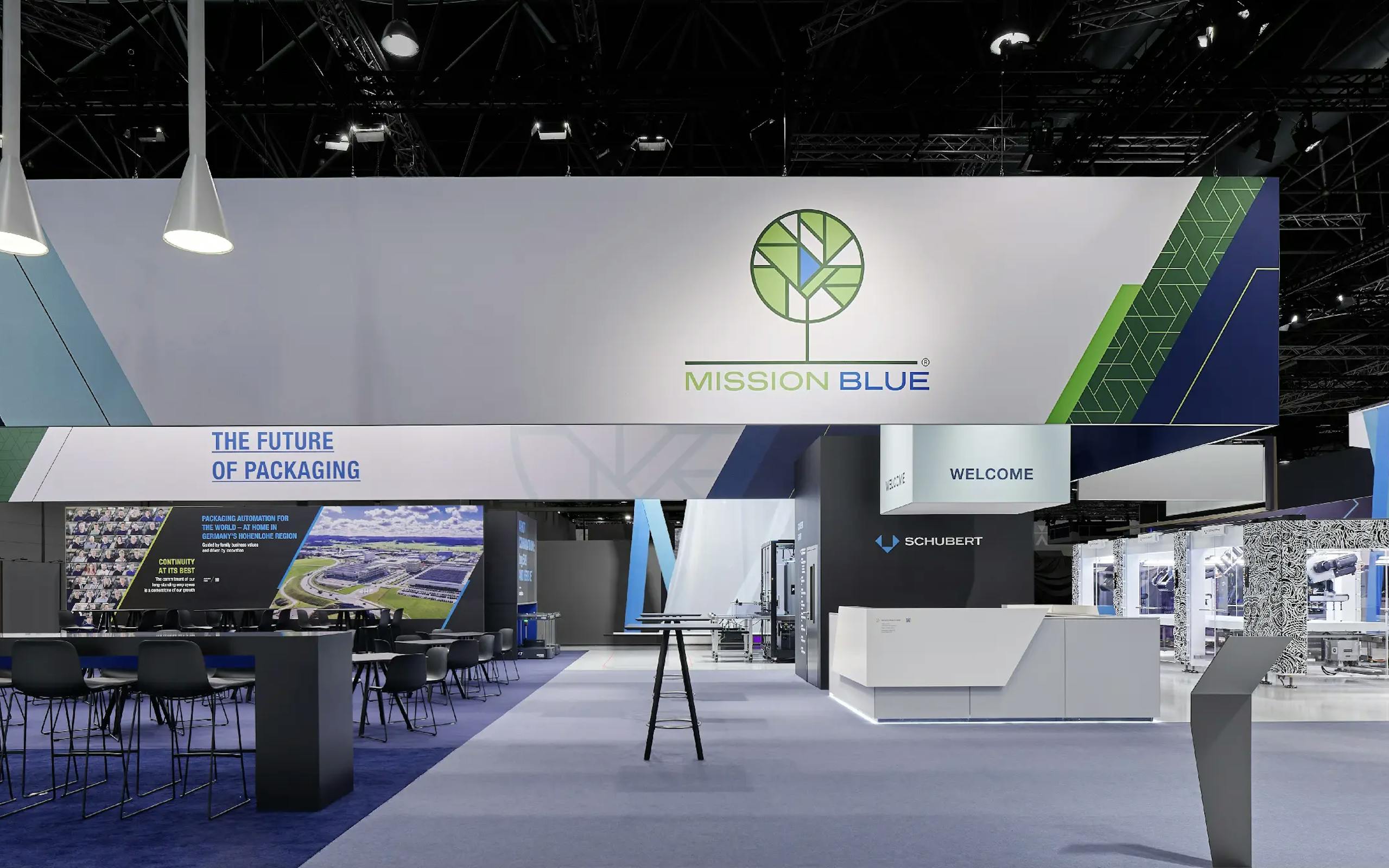 Plenty of space for dialogue
The latest technology experienced hands-on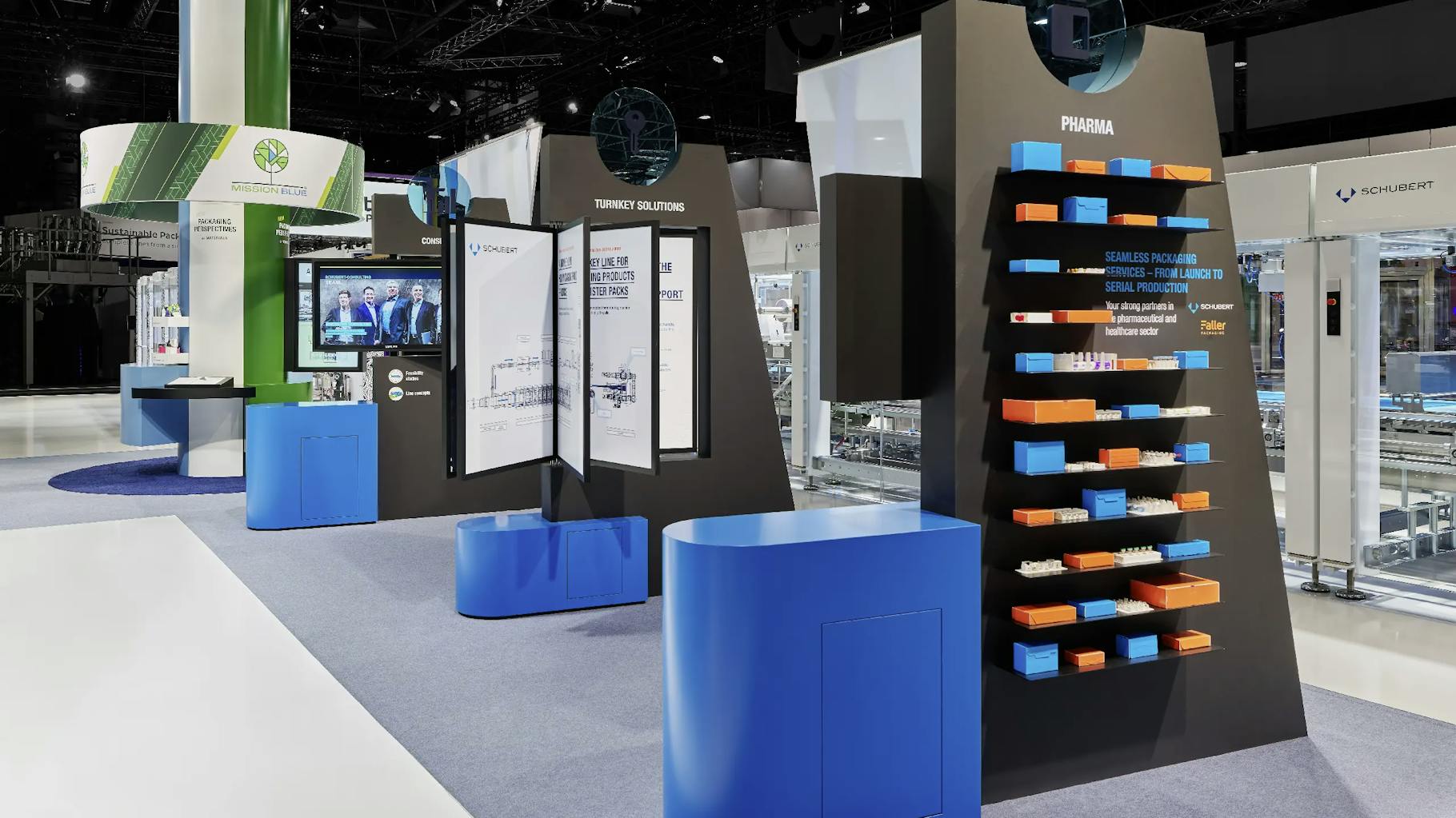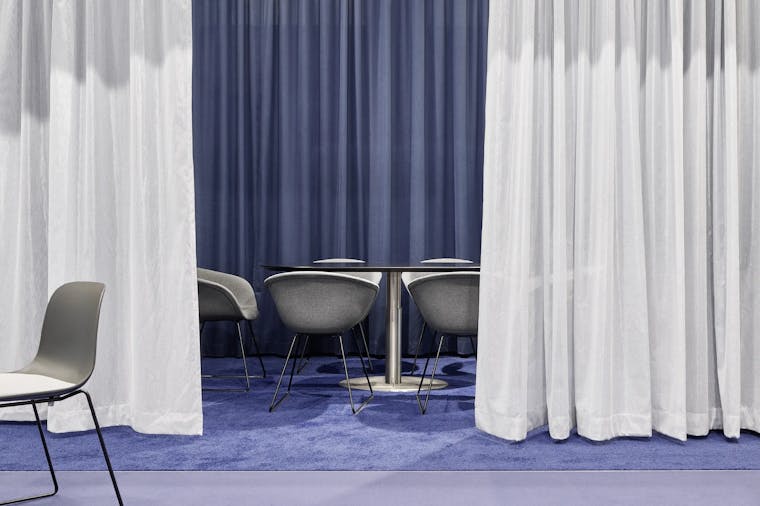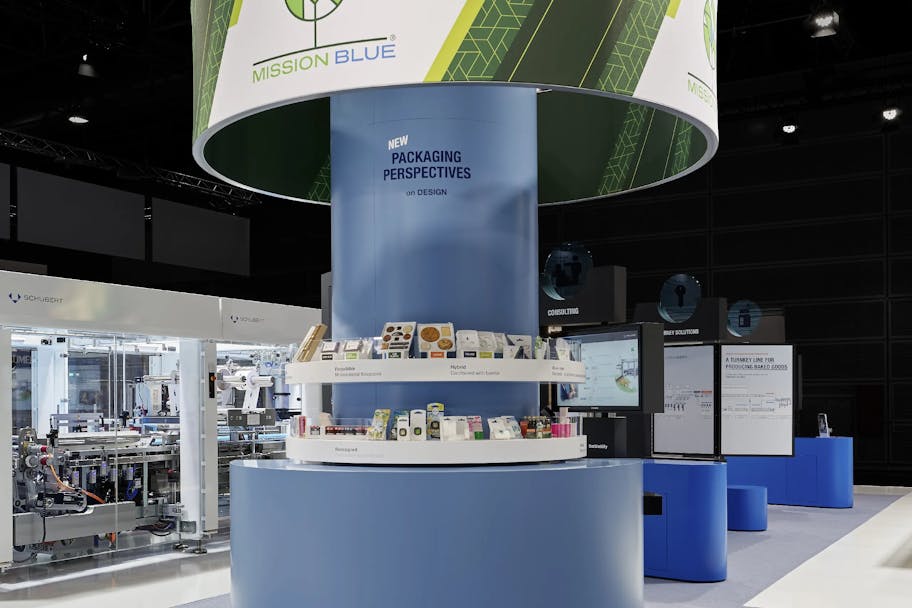 Forward-looking solutions for sustainable packaging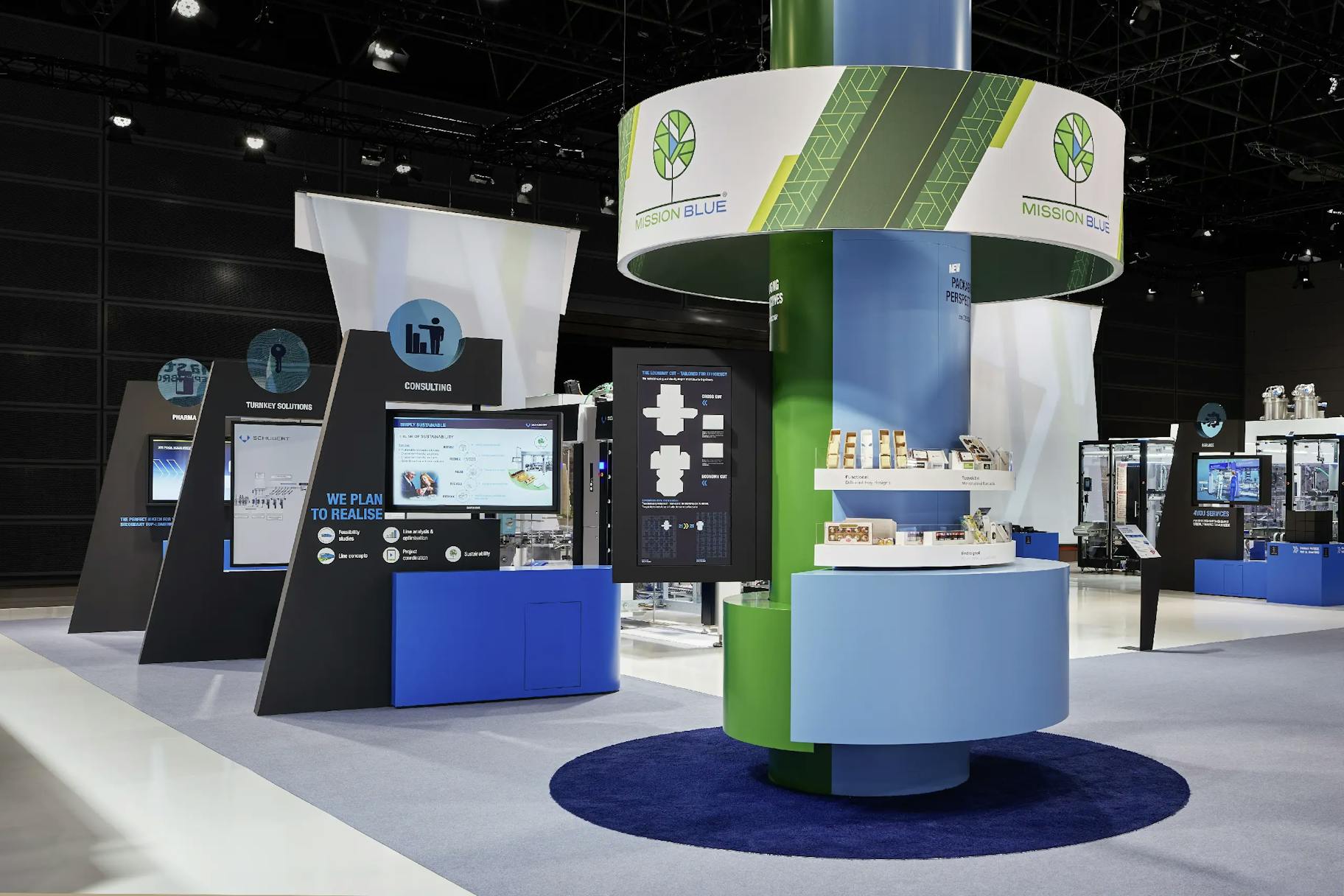 At four thematic islands on the stand, visitors could explore how Schubert Services can help them achieve even more from their packaging processes – with Schubert machine services, turnkey solutions, consulting and cutting-edge pharmaceutical packaging.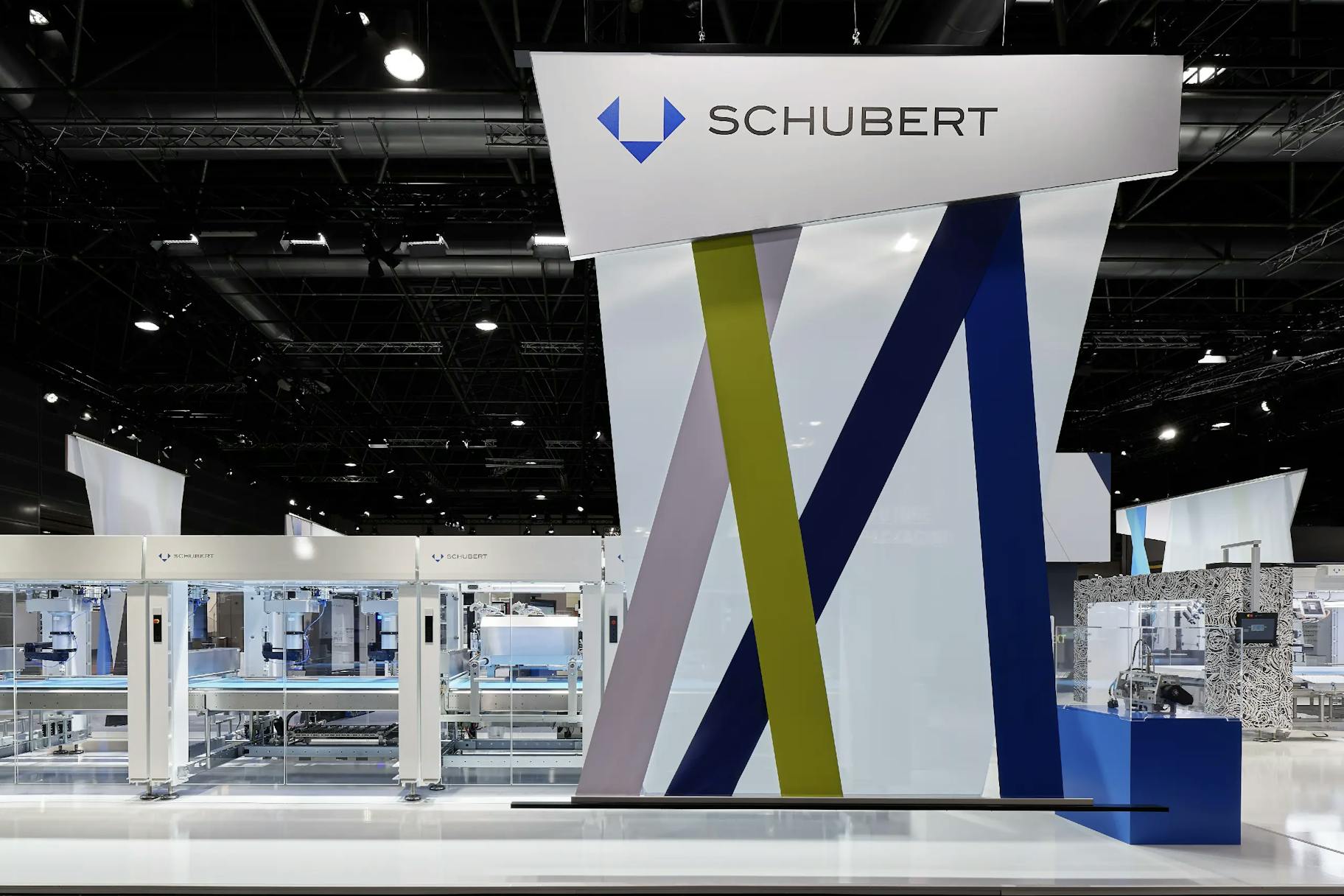 Flexibility, efficiency and availability have always been at the heart of Schubert's robot-supported modular technology. During numerous guided tours of the trade fair stand, visitors are happy to take advantage of the opportunity to experience live how Schubert combines its proven concept with forward-looking ideas for new packaging processes.