Marketing in China – communicating authentically in a unique cultural context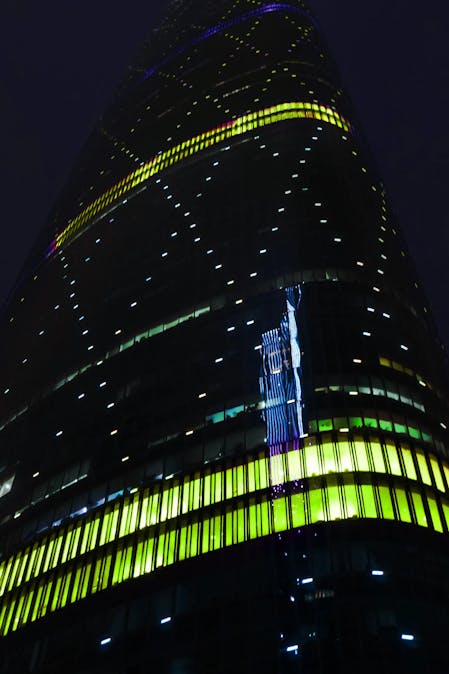 Over the next decade, it is estimated that about 60 percent of global consumption will be sourced from the growing middle class in Asia. And European products in particular are very popular in countries like China, Korea and Japan. Two thirds of all Chinese consumers confirm in surveys that they are especially interested in products from Germany and neighbouring European countries. B2B marketing in Asia presents great opportunities – but it needs to be adapted to country-specific circumstances and conditions.
Your contact for marketing in china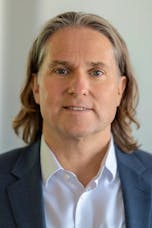 A successful market entry in Asia
The marketing potential is huge, considering that China's major cities alone are home to nearly as many people (300 million) as the entire U.S. (329 million). However, the Asia-Pacific region (APAC) also requires a very specific marketing strategy that takes into account the widely varying consumer behaviour, country-specific customs and social conditions such as the enormous number of single households. This is something that the Ruess Group marketing agency is already doing very successfully for some of its international clients while expanding their marketing activities, especially in China and Japan.
Those who want to succeed with their marketing strategy in the APAC region with relevant target groups should, in addition to a market-specific approach, also rely on professional and authentic communication in the respective national languages. This may sound straightforward, but the challenge is real. Especially the translation of technical and industry-specific texts involves more than just converting a text into another language. This is why the Ruess Group, since the marketing launch for its client Schubert in China, has relied on an innovative AI tool to translate all communication content such as press releases, website texts and technical articles – in combination with subsequent polishing by a native speaker.
For the packaging machine manufacturer from Crailsheim, the Ruess Group has already successfully tested and established all types of AI translation for marketing in China: In addition to the country-specific website for the company and all social media activities in China, the annual Sequence customer magazine was also published in 2019 and 2020 as a Chinese partial edition, and for the first time in 2020 as a partial edition in Japanese.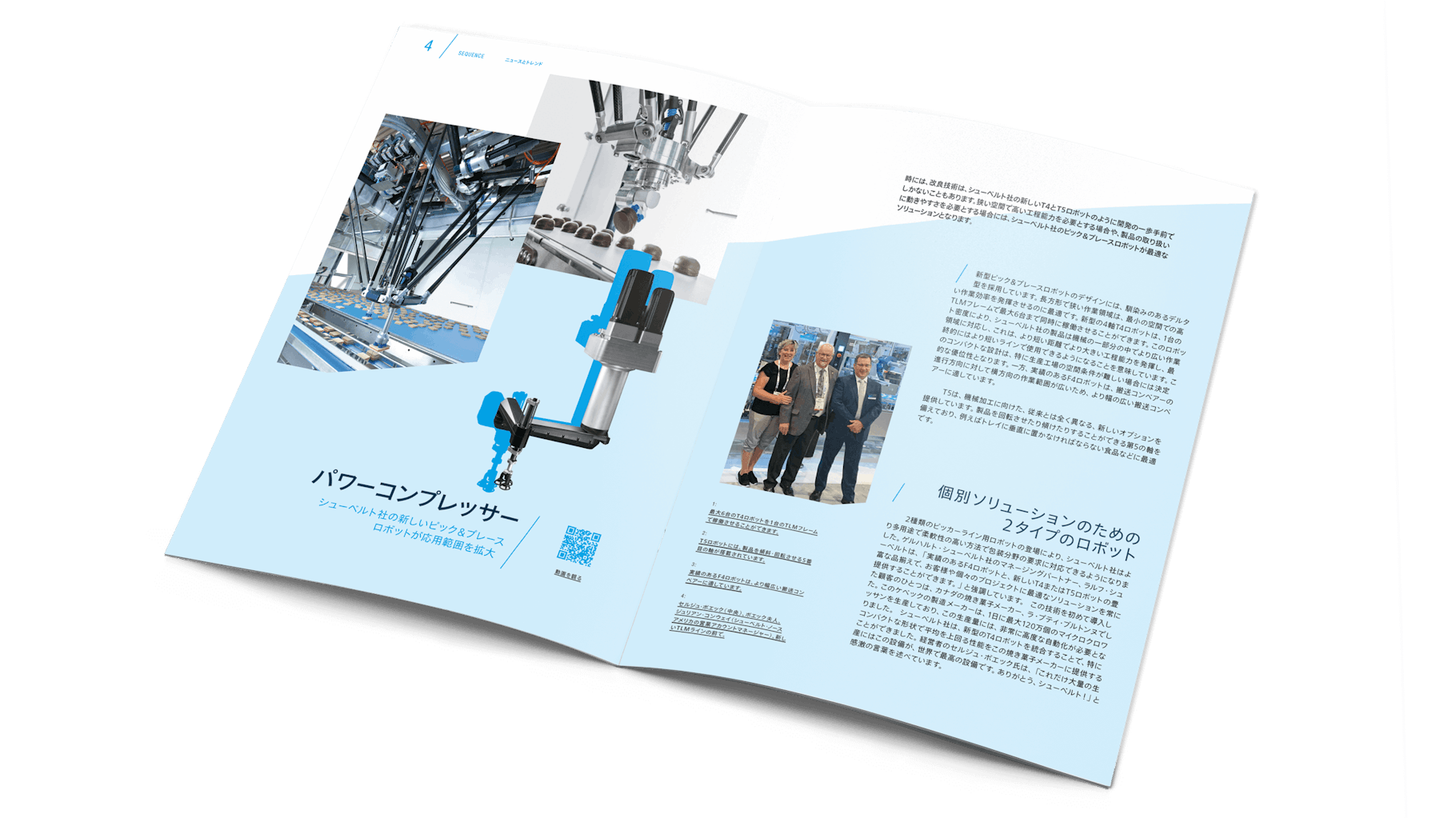 WeChat is not comparable to the social media channels of Western industrialised nations. It is a universal digital platform that is ubiquitous in everyday life in China. From personal and professional networking to commerce to the deposit for a shopping cart at the supermarket, every contact as well as numerous payment processes or bookings are made via this mobile, app-based platform.
Sufficient use of the major social networks in each country is mandatory to drive brand awareness through word-of-mouth. In Korea, for example, these include the KakaoStory, Naver and Daum platforms. When it comes to social media in China, Baidu and WeChat are the most important. Unlike in Europe, Facebook and Google have little significant reach in either country. LinkedIn, on the other hand, is gaining relevance in the APAC region as a European B2B platform and recorded 52 million registered members from China in 2020 – ranking third in the international comparison of selected countries by number of registered LinkedIn members behind the US (174 million) and India (71 million) in first and second place.
Campaign and media planning in full local colour
Especially in the current pandemic environment, the topic of hygiene, which has always been prominently highlighted in Asian advertising, resonates even more strongly in all markets. Calendar occasions also offer numerous communication opportunities. For example, the Chinese New Year on 12 February 2021, according to the Chinese zodiac signs as the Year of the Buffalo, is a visual and mental motif for comprehensive activities in marketing. The significance of the holiday goes far beyond our New Year's Eve. The celebrations can last up to two weeks.
In general, there are great reservations in the Asian world about aggressive sales strategies and marketing messages that present the benefits of a product in an exaggerated, informative and overly direct manner – such products are generally not trusted very much. Whereas in Germany, subtle humour, parody or ambiguity are used as stylistic devices in marketing, advertisers in China prefer to use highly symbolic, emotive and rather playful advertising messages that are less factual and serious. Often characterised by a strong cult of personality. Well-known pop stars, actors or outstanding Chinese athletes used as testimonials in marketing are synonymous with high acceptance of the products they promote.
However, Asia also has a high level of acceptance in terms of German innovations and German engineering (Made in Germany). Germany is still associated with reliability and the high quality of its products, especially in China. For German companies, this represents a big plus when planning local marketing activities. A marketing strategy that builds on this positive image and is as emotionally charged as possible is promising. Supporting communication measures that show production sites and employees manufacturing the products in a kind of "behind-the-scenes" format can also help.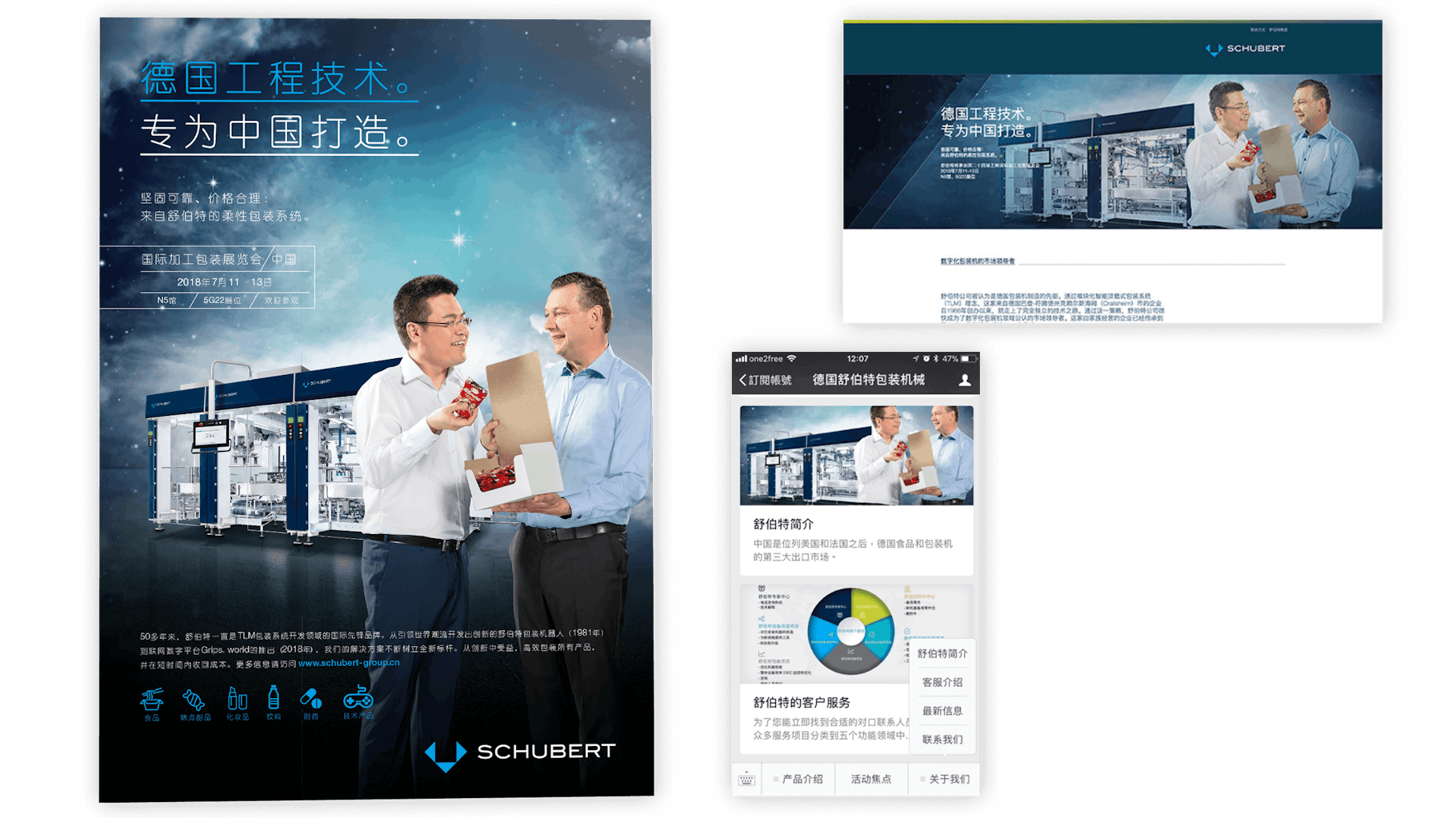 Story-Telling-Advertising
Unlike in the European context, the campaign motif for marketing in China was deliberately "humanised" and not focused on the packaging machines themselves. A German Schubert engineer and his Chinese colleague – engrossed in conversation – form the compelling focus of the motif here. With this media campaign, the Ruess Group accompanied its customer's market entry in China. The overall attention and awareness achieved were reflected in the large number of visitors to the stand.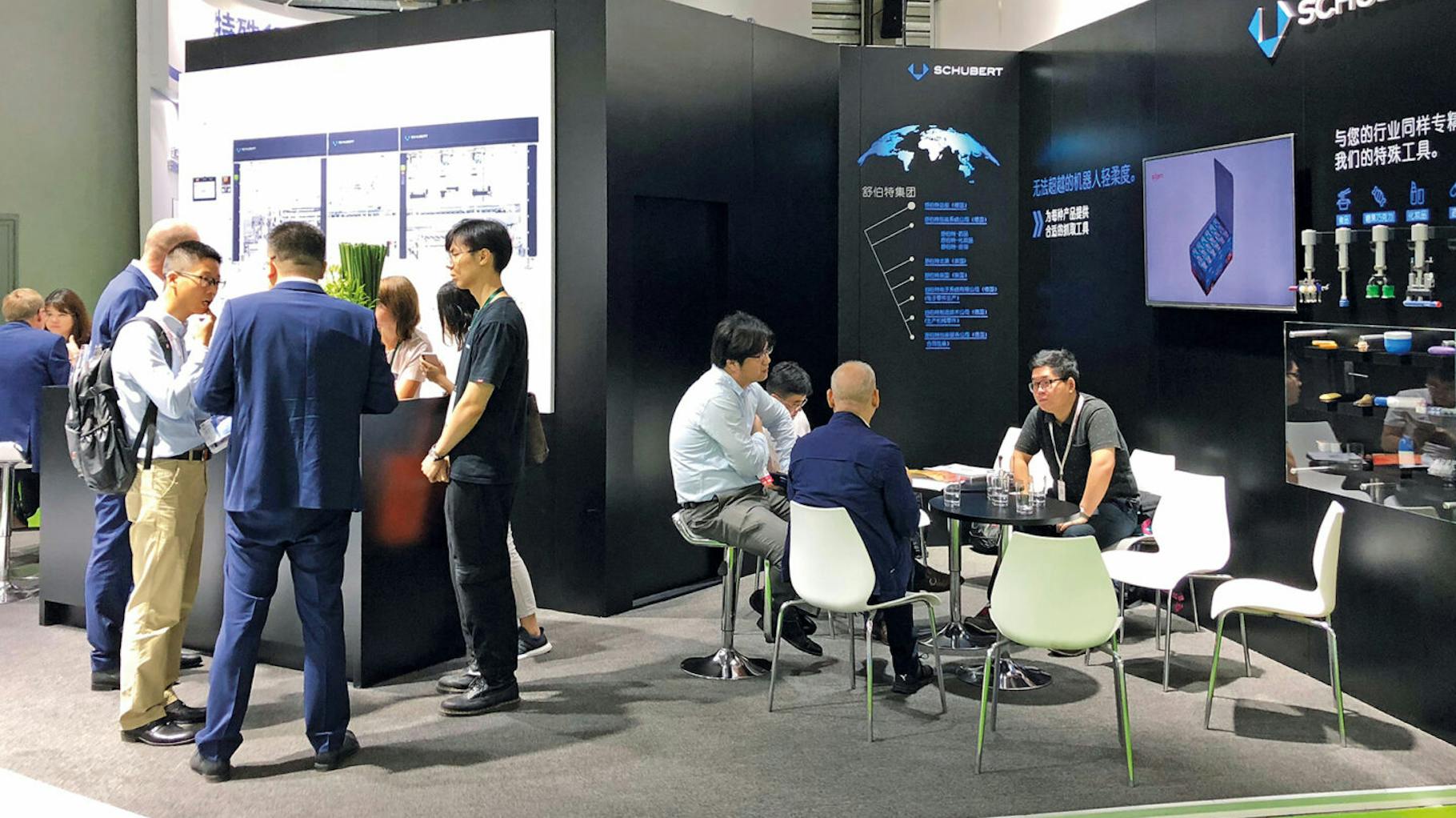 Kicking off with strong trading partners
With several representative centres throughout the country, this trading company offers good accessibility and a comprehensive, distinctive support structure with direct contact on site. Both aspects play a major role in the highly discerning business culture in Japan. Strong trading partners with extensive experience in this area can open doors that would previously have been much more difficult for European manufacturers to crack due to cultural differences.
A big door for marketing and sales activities of packaging solution providers opened at FOODtech Japan in Makuhari. FOODtech is considered one of the largest B2B food processing and automation technology trade shows in the Asian region and was held both live onsite and virtually from 25-27 November 2020.
The Ruess Group already supports some international clients with their marketing in Japan. The trend here is moving strongly in the direction of country-specific marketing strategies with very targeted activities, such as the roll-out of new product lines.
Get started on your yearly planning with us now.
We look forward to hearing your questions and objectives. We will be delighted to prepare for an initial consultation.