29. April 2019
First Packaging Technology Marketing Day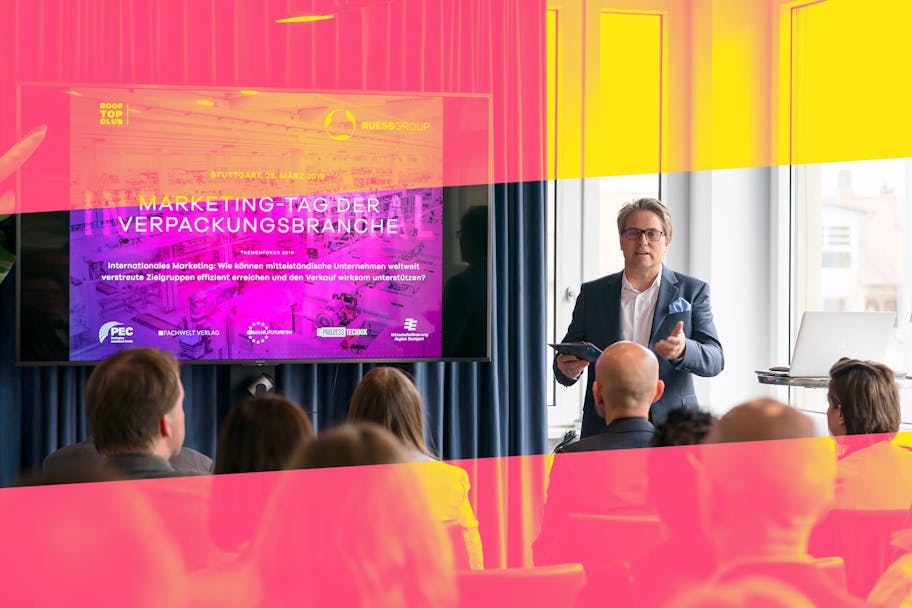 Continuous growth and advancing internationalisation due to ever increasing export shares present marketing managers with new topics and challenges. How to deal with these and why sales and communication are increasingly merging were key topics at the Packaging Technology Marketing Day. The invitation was issued by Stuttgart-based marketing agency Ruess Group together with the Packaging Excellence Centre (PEC) and attended by the heads of marketing and sales of well-known, globally active companies in the packaging industry. In addition to best-practice examples, the presentation by Chinese marketing expert Dr. Gordon Wong from Beijing attracted particular interest.
Whether industry 4.0 platforms or the support of sales processes through automated marketing, in-house collaboration and exchange tools or new, agile project processes: Marketing can and must make a greater contribution to the success of a company today than just a few years ago. Therefore, digitalisation brings with it major changes and immense new opportunities for marketing on the one hand, but also enormous complexity with a growing need for know-how. At the Packaging Technology Marketing Day in Stuttgart, numerous heads of marketing and sales from well-known, globally active companies in the packaging industry exchanged views on current developments and new opportunities in international B2B marketing.
Opportunities in marketing
The first Packaging Technology Marketing Day, which the Ruess Group organised together with the Packaging Excellence Centre on March 28, 2019, started with 25 participants.
New level of Customer Centricity
This narrows and shortens the task and demands on marketing." The real pacemakers of B2B marketing are the development and sales departments, which develop new solutions in close collaboration with their customers. The problem with that: "The B2B marketing department often lacks original customer contact and real knowledge about the customer."
With the evaluation possibilities of digital channels, this is currently changing. With a manageable amount of analytic effort, it is possible to determine how customers and interested parties react to the brand and products. Customer knowledge returns to the communications department and with it a new level of customer centricity. Steffen Ruess cited modern CRM systems and inbound marketing solutions as prerequisites. "They can improve sales success by double-digit growth rates and reduce transaction costs for contact initiation." This alone shows the necessary fusion of communication and sales, as well as an integrated interaction along the customer's purchase decision process.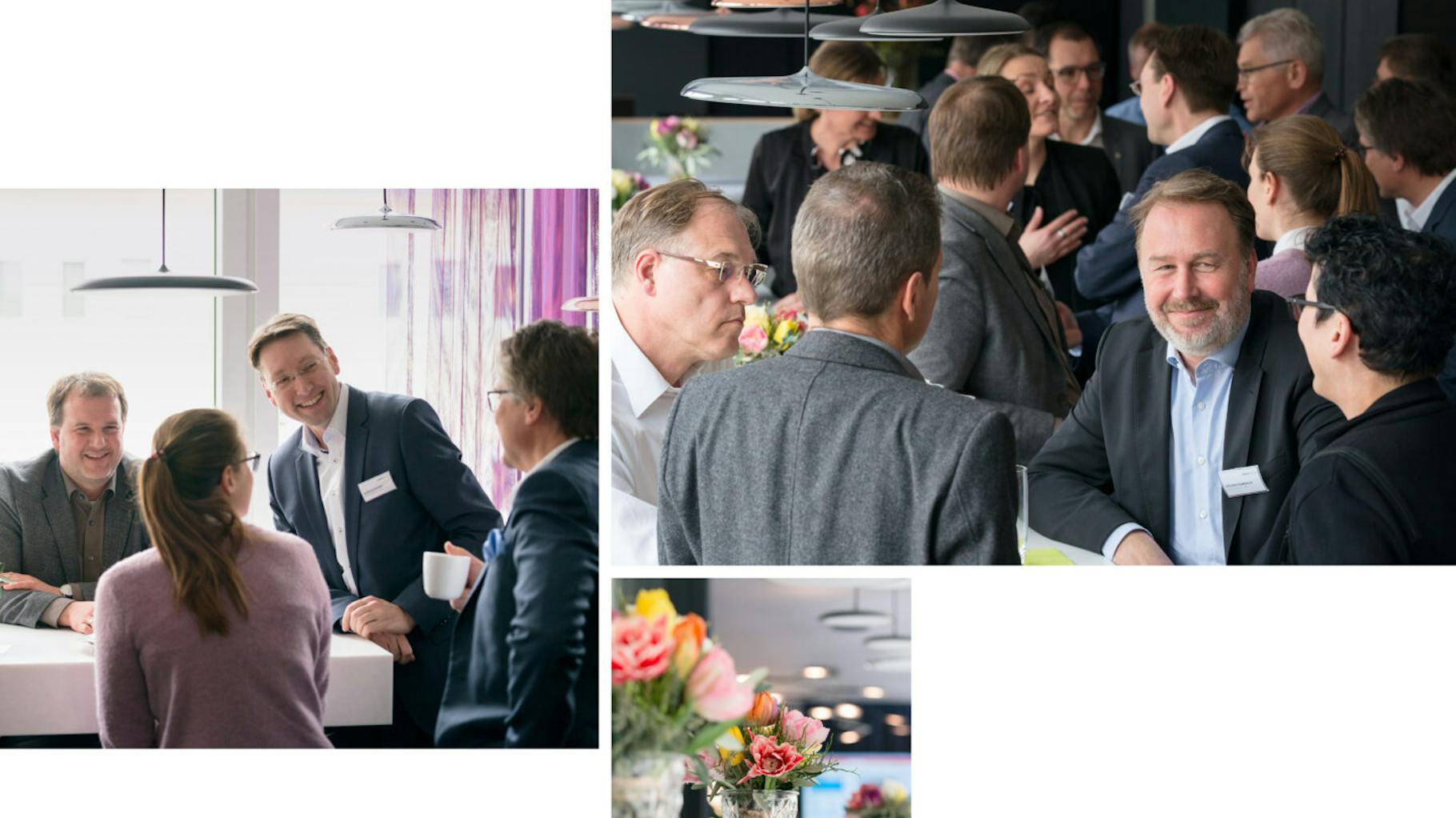 Patience required: Marketing in China
His example of successful strategic marketing in China made it clear: Marketing is always local, so you need country-specific marketing, including all the content machines, digital channels and control systems available today, and including CRM. However, there are some basics that are crucial for all marketers who venture into the Chinese marketing arena, which require patience and, above all, mutual cultural interest and social understanding.
"If you want to be successful in China, you should want to understand our language and culture, and you have to adapt to a completely different media market, different digital platforms and a different dynamic in communication. We observe that this is by no means a matter of course for German marketing departments, but it is indispensable." Many things are already different because the big Chinese firewall blocks websites such as facebook, twitter, Google or YouTube. Instead there is WeChat, Baidu and Youku. "Success in China requires strong, long-term social networks and personal connections. And it requires targeted media attention for the presence in this huge market – always assuming professional management, which involves country-specific communication."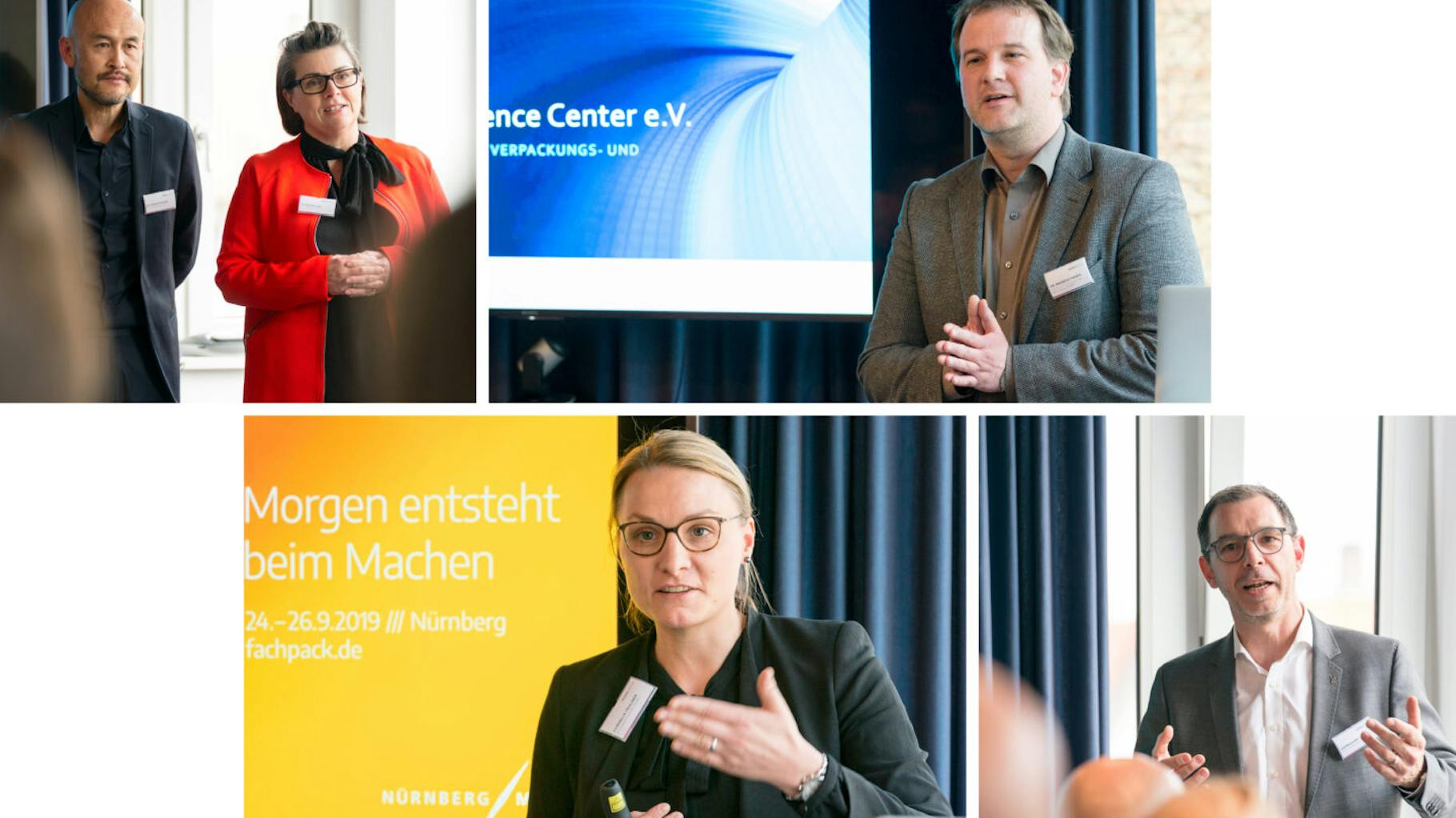 Very convincing and with real passion
In recent years, the Wittenstein Group has unified its marketing, with a number of individual brands being given uniform branding under the Wittenstein umbrella brand.
The case studies of the Wittenstein Group and of Harro Höfliger spurred on the exchange between the marketing and sales experts. The representatives of both companies from the packaging industry revealed how they deal with the growing complexity in the marketing departments. For the Wittenstein Group, this was done by Sales Manager Andreas Mei, the contribution for Harro Höfliger Verpackungsmaschinen GmbH was made by Fritz Major as Head of Sales and Sales Marketing together with Marketing Manager Denise Dreher.
Cornelia Fehlner, Head of FachPack, clarified the role of international and European exhibitions such as the FachPack of the NürnbergMesse GmbH for the successful communication mix. Multinational attention as well as the concentrated innovative and radiant power of an industry can not only be seen, but also presented and experienced at trade fairs such as the FachPack. The fact that FachPack and other NürnbergMesse events are not only a format in Germany is demonstrated by the great international commitment of the exhibition.
Dr. Andreas Findeis from the Stuttgart Region Economic Development Corporation took a different view – he explained how the support of networks such as the Packaging Excellence Centre works alongside companies, communicators and other industry players. As a collaboration and marketing platform, the PEC ensures ongoing exchange between machine manufacturers, component developers, universities and research institutes. 55 members from the areas of business, science and politics stand for this form of collaboration in the industry and are therefore also part of a future-oriented, increasingly interdisciplinary and international marketing.
Fritz Major and Denise Dreher as co-presenters
OVER THE LAST FIVE YEARS, THE COMPANY HAS DOUBLED ITS TURNOVER THANKS TO A CLEAR FOCUS ON MARKET OPPORTUNITIES IN NARROW MARKET SEGMENTS.