10. December 2020
Live streaming from the LiSEC Campus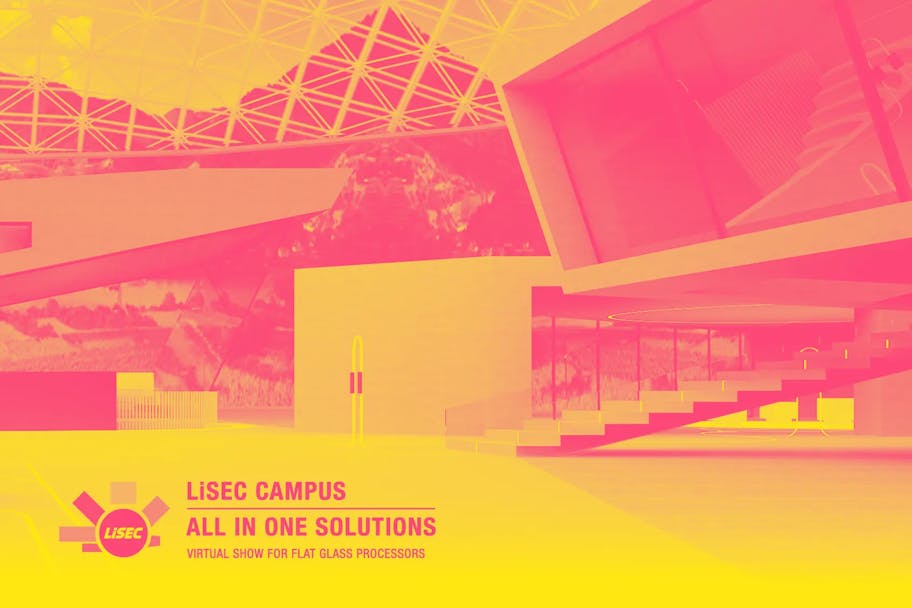 The ongoing corona crisis calls for and opens the door to new digital and virtual event formats for companies in a way that has rarely been implemented to date. From simple 2D exhibition stands to more complex virtual 3D exhibition stands with interaction components, to entirely animated exhibition events with augmented reality applications on a dedicated event platform – many solutions are possible within the framework of a virtual exhibition. For our client Lisec, we designed and produced a four-day virtual campus from scratch as a digital premiere, including daily live sessions and chats with management and experts. Based on state-of-the-art gaming technology and software, we created our own virtual walk-in world, which currently represents an all-new level of quality in the design and innovation of virtual events in international B2B marketing for companies.
A virtual event premiere for LiSEC
The four-day LiSEC Campus
27-30 October 2020
Five languages
Live streaming of all individual events
For sales representatives, a 24/7 live chat via HubSpot
Digital agency in Stuttgart organises virtual trade fair event for Lisec
The content specialists and digital experts at the Ruess Group in Stuttgart, for instance, developed a digital exhibition as an event platform with a dazzling array of tools for virtual trade fairs – with digitally walk-through trade fair pavilions where guests could experience Lisec machine holograms, 3D models and the full product portfolio. The entire exhibition site was designed like a live trade fair with a stand: including stairs, specially designed structures, a film arena and a lounge. The Campus also offered moderated expert talks and presentations via live stream or video recording, insights into production, online seminars and communication opportunities with interaction.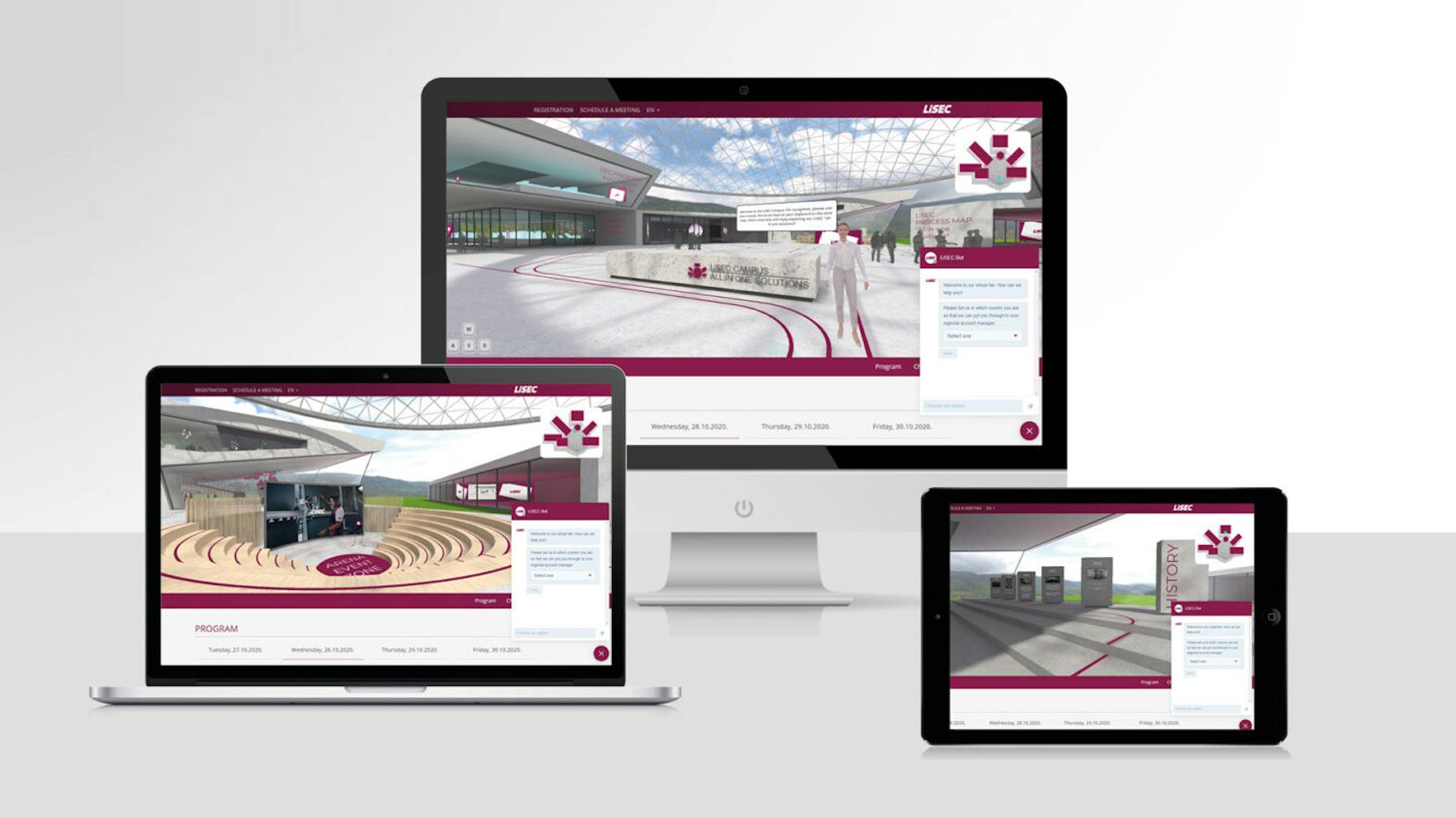 A state-of-the-art concept for maximum user experience
The planning and realisation of this high-end event in the form of a virtual trade fair from a single source, customised for the client, requires comprehensive expertise in all disciplines. Here, the Ruess Group digital agency capitalised on its many years of experience in international B2B marketing and specifically in trade fair design to not only create an online trade fair stand for Lisec as an exhibitor, but a whole Lisec world.
Reflecting the highest standards of industry-typical architecture, the development of the UX storyboard, the visual design and programming of the 3D world with numerous virtual trade fair tools, all the way through to the moderated live broadcasts from the TV studio set up at the client's location, were carried out in close collaboration with the technology partner. The CMS filled by the editorial staff provided extensive information and other material for all participants of the virtual trade fair, such as image and product videos, documents for download, audio files and a contest.
Worldwide visibility thanks to interdisciplinary promotion
PR measures for print and online media and a social media campaign via LinkedIN, including digital media, created reach: Well-known trade media accompanied the digital trade fair appearance, the supporting social media campaign achieved some 435,000 impressions with informative posts, and digitally placed newsletter advertising was sent to 130,000 addressees from the target sectors worldwide.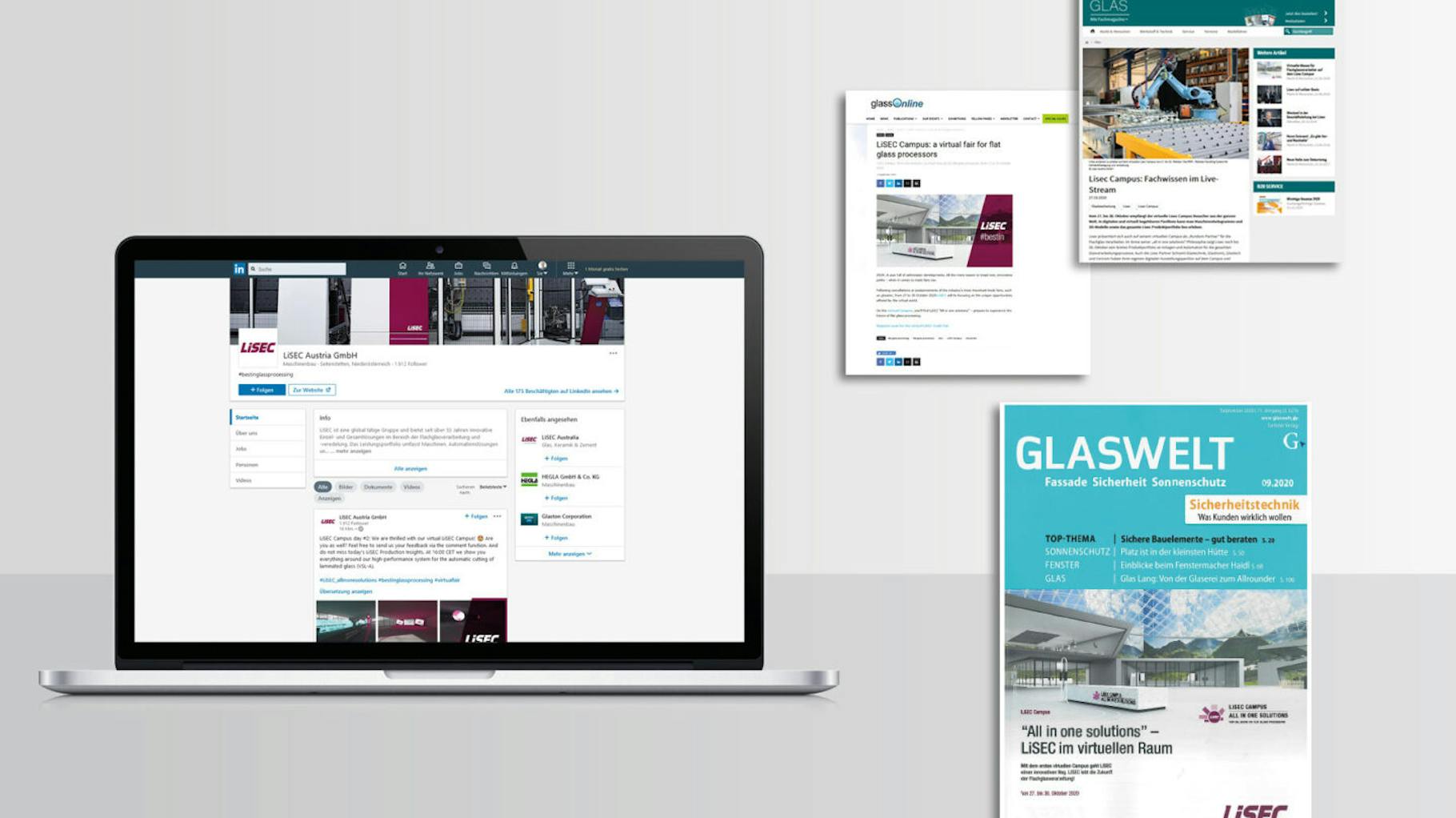 A resounding success for the virtual trade fair platform
During the four days of the fair, over 1,000 participants and visitors experienced many new solutions for the entire glass processing chain. The registration was handled via the HubSpot CRM interface. Close to 300 viewers per live session with management and experts took advantage of opportunities to explore the latest industry trends and innovations first-hand – during some 400 minutes of broadcasting. The colleagues in the sales chat were on duty around the clock worldwide. As a result, the Lisec Campus generated around 70 per cent qualified leads from sales chats, which significantly exceeded the client's expectations. Overall, in addition to the high number of participants, the visitors also spent a long time on the campus and at the individual events.
In order to generate relevant leads for sales, a virtual online trade fair as an alternative to a real trade fair visit needs to address and appeal to existing and new customers alike, convincing them to come by and enter into dialogue. The visitors were thoroughly enthusiastic about Lisec's virtual brand appearance. One visitor expressed their enthusiasm as follows: "All that's missing now is sitting down to enjoy a beer together after a successful day at the fair."
Markus Rahner, Managing Partner of the Ruess Group, is very much looking forward to developments after Covid-19: "There will most definitely no longer be any strictly live trade fairs, but always a hybrid variant, i.e. an event that combines live and virtual worlds in a meaningful way. Personal contact will remain important, even though the acceptance of digital communication and virtual events has increased considerably. And both formats will have to achieve one thing above all: "Inspire the visitors!"
It is still possible to explore the virtual Lisec Campus; a tour can be organised by contacting the Lisec sales department. Here you can find out which success factors are decisive to the success of a virtual trade fair and which services the digital experts from the Ruess Group offer to companies.