LinkedIn Campaign for Theegarten-Pactec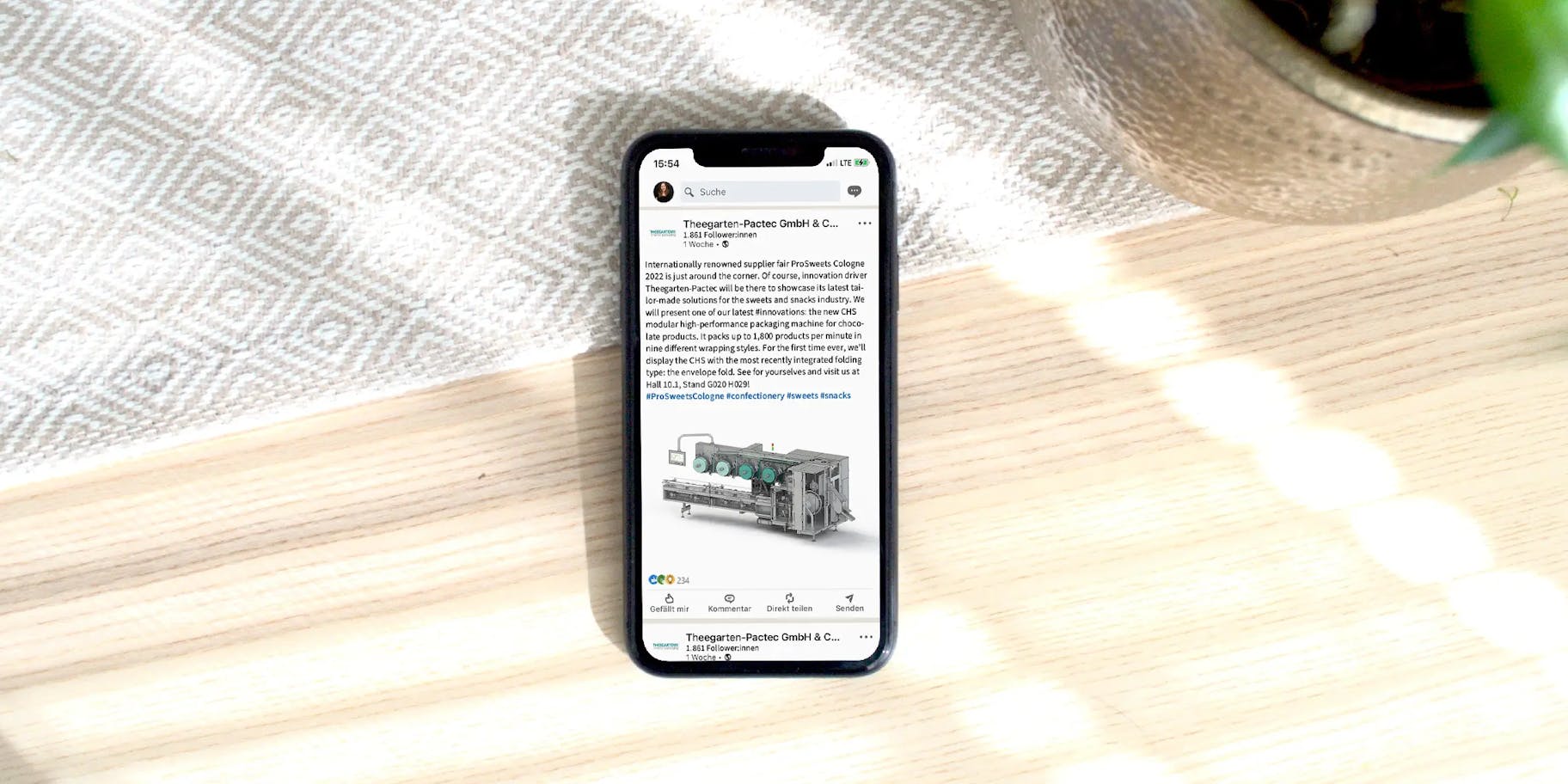 Theegarten-Pactec GmbH & Co. KG
Mechanical and plant engineering
The client
Theegarten-Pactec, with its headquarters in Dresden (Germany), is a manufacturer of packaging machines for confectionery, as well as other food and non-food articles. The company specialises in the development and production of packaging machines for small confectionery products. Its offering encompasses more than twenty different types of packaging with a wide range of services. In addition to individual machines, the company also offers complete packaging lines as a turnkey partner. Thanks to its many years of expertise in the design of continuous high-performance machines, Theegarten-Pactec effectively supports its customers in the planning and implementation of customised solutions – to meet all requests and individual customer requirements.
The assignment
The launch of a LinkedIn campaign for packaging machine manufacturer Theegarten-Pactec to promote the client's presence at the ProSweets 2022 trade fair.
Strategic goals:
Increase Theegarten-Pactec's visibility to reach potential ProSweets stand visitors
Demonstrate expertise in confectionery & snack packaging
Provide customers and partners with product and company information
Operational Objectives:
Brand awareness: Addressing relevant contacts from the confectionery industry
Follower growth: Reaching out to and gaining new followers from the confectionery industry on LinkedIn
Services
Consulting
LinkedIn content planning
LinkedIn ad campaign (flanking)
Evaluation: Success analysis and recommendation
LinkedIn content plan with precise objectives and storyline
The topic is communicated as often as possible and from different angles, e.g. under the metatopics of Technology, Market & Trends, etc. At the same time, the specific ProSweets thematic posts are interspersed with other relevant topics that highlight Theegarten-Pactec's expertise. A more appealing form of presentation is achieved thanks to video formats that are more strongly integrated. Moreover, the English posts ideally address the international target group.
205 per cent increase in the number of followers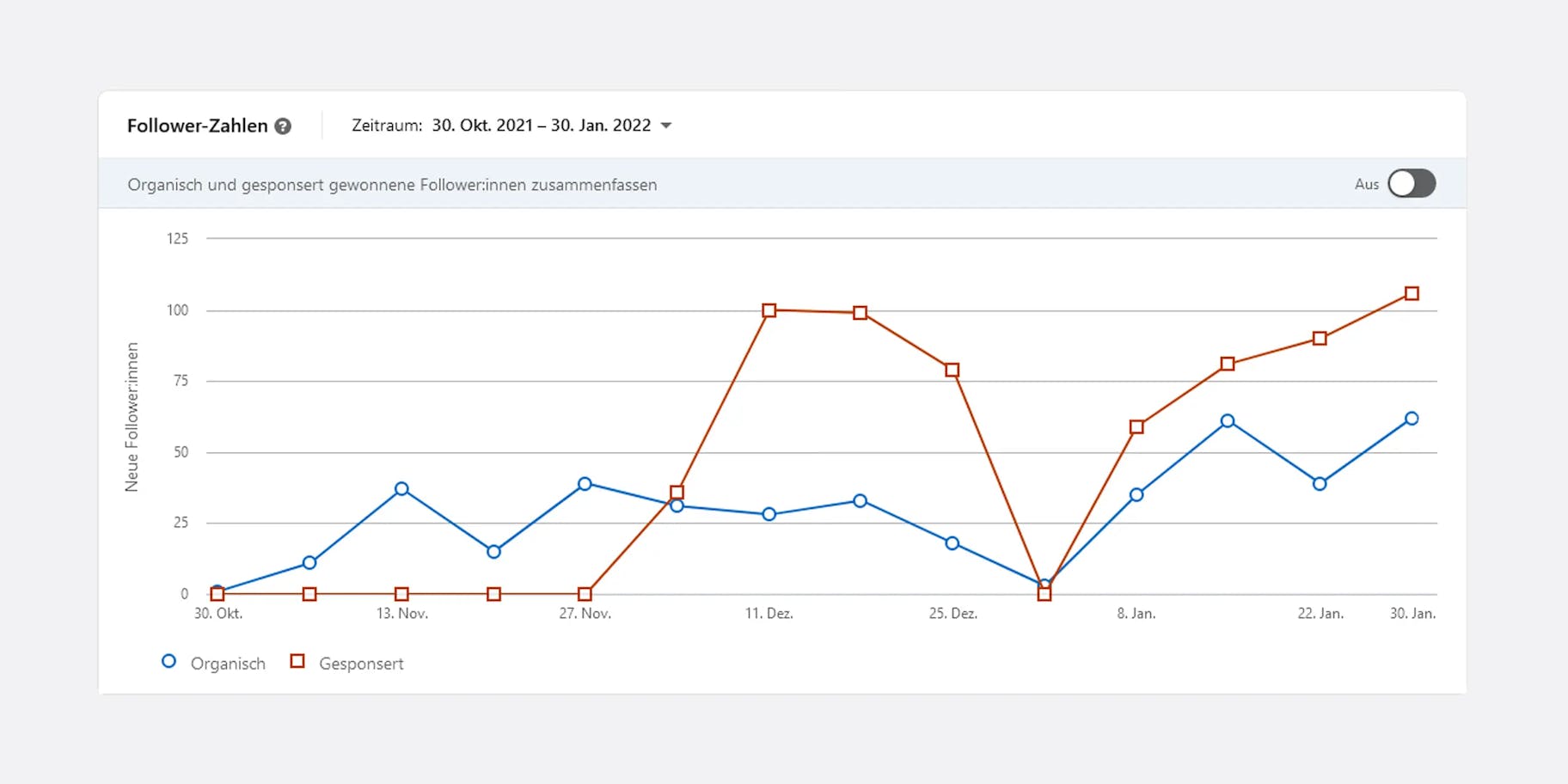 At the start of the campaign, Theegarten-Pactec had 612 followers on LinkedIn. Three and a half months later, we had increased this number by 205 percent to 1,861 followers.
Generating followers from relevant target groups
The target groups that are especially relevant for Theegarten-Pactec are found in the food manufacturing, beverage and consumer goods sectors. Prior to the beginning of the campaign, the last two target groups were not directly addressed, and the food manufacturing group ranked only 3rd. With the help of the LinkedIn campaign, we succeeded in increasing the quality of followers to such an extent that the food manufacturing segment now ranks 1st among the top industries addressed – followed by the food and beverage industry in 3rd place and the consumer goods sector in 5th place.
Most successful LinkedIn posts
First CHS announcement at ProSweet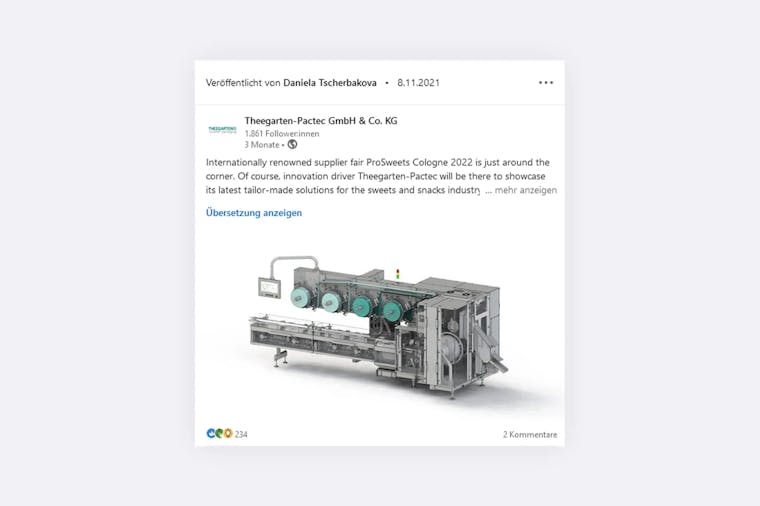 Highest number of clicks (3,006)
Highest number of followers generated (300)
Follow-up CHS announcement at ProSweets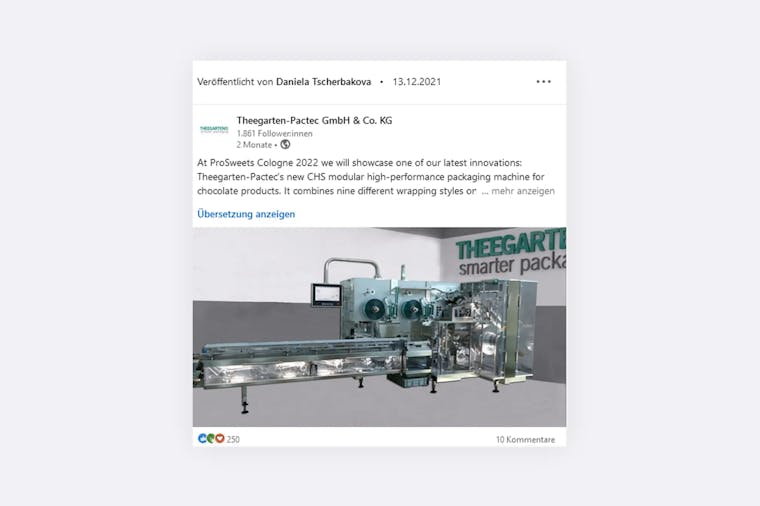 Highest number of impressions (188,681)
Second highest number of likes (250)
Speed and modular design of the CHS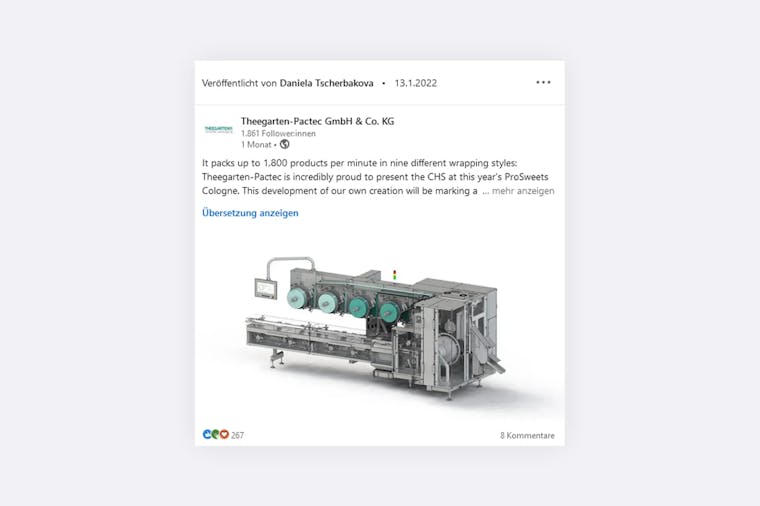 Highest number of likes (267)
Highest number of impressions (113,904)
In conclusion: Strategic and operational goals were achieved
Theegarten Pactec LinkedIn company profile: As a result of the campaign, potential customers from the food manufacturing sector ranked number 1 (number 3 before the campaign was launched).
Numerous visitors from the countries targeted on LinkedIn (DACH, Middle East, North Africa, Turkey) attended Theegarten-Pactec's ProSweets stand live.
1,249 new followers were acquired within only 3 months.
Further lead opportunities (enquiries about machines, training, etc.) were generated additionally for Theegarten-Pactec (no campaign target).