Be proactive and secure your future
Sustainability

– Success through consulting and strategy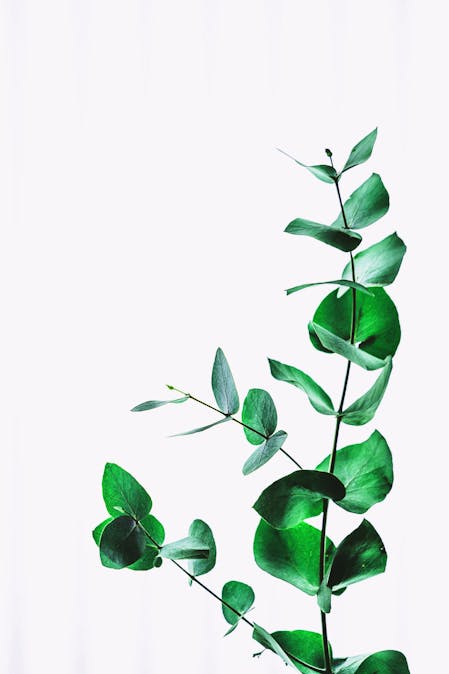 If you want to avoid the greenwashing trap, you have to consider sustainability as a pivotal field of action. Sustainability communication can only appear genuine, authentic and credible when based on a sustainable corporate and marketing strategy. But credibility isn't the only reason why now is the time to act: Over the long term, the market will belong to those who actively promote sustainability and who deal intensively with the ecological, economic and social aspects of sustainable corporate governance.
Consulting on sustainability in strategy and marketing can be the first step towards a sustainable and financially successful future.
Taking advantage of the neo-ecology megatrend
Neo-ecology is the megatrend that will fundamentally influence our world in the coming years: Environmental awareness is evolving from an individual lifestyle to a social movement and an obligation for everyone. Sustainability is shifting from a consumer trend to an indisputable economic and competitive factor. In the process, we are dealing with a whole series of changes and potential:
Generation Global: Ecological values are creating a new global identity
New Markets: The new "we" culture is signalling a shift away from consumerism
Nature Next: Nature is becoming synonymous with a healthy life
New Economy: Progressive post-growth is becoming the paradigm of the next society
A new world is emerging – Sustainability 3.0 – with immediate consequences. The change in values will further limit the general tolerance of environmental sinners and will result in strongly regulating laws. This calls for proactive action at the executive level. Facing these challenges requires some entrepreneurial courage and foresight, but it also holds great opportunities. For the individual company as well as for us as a human race.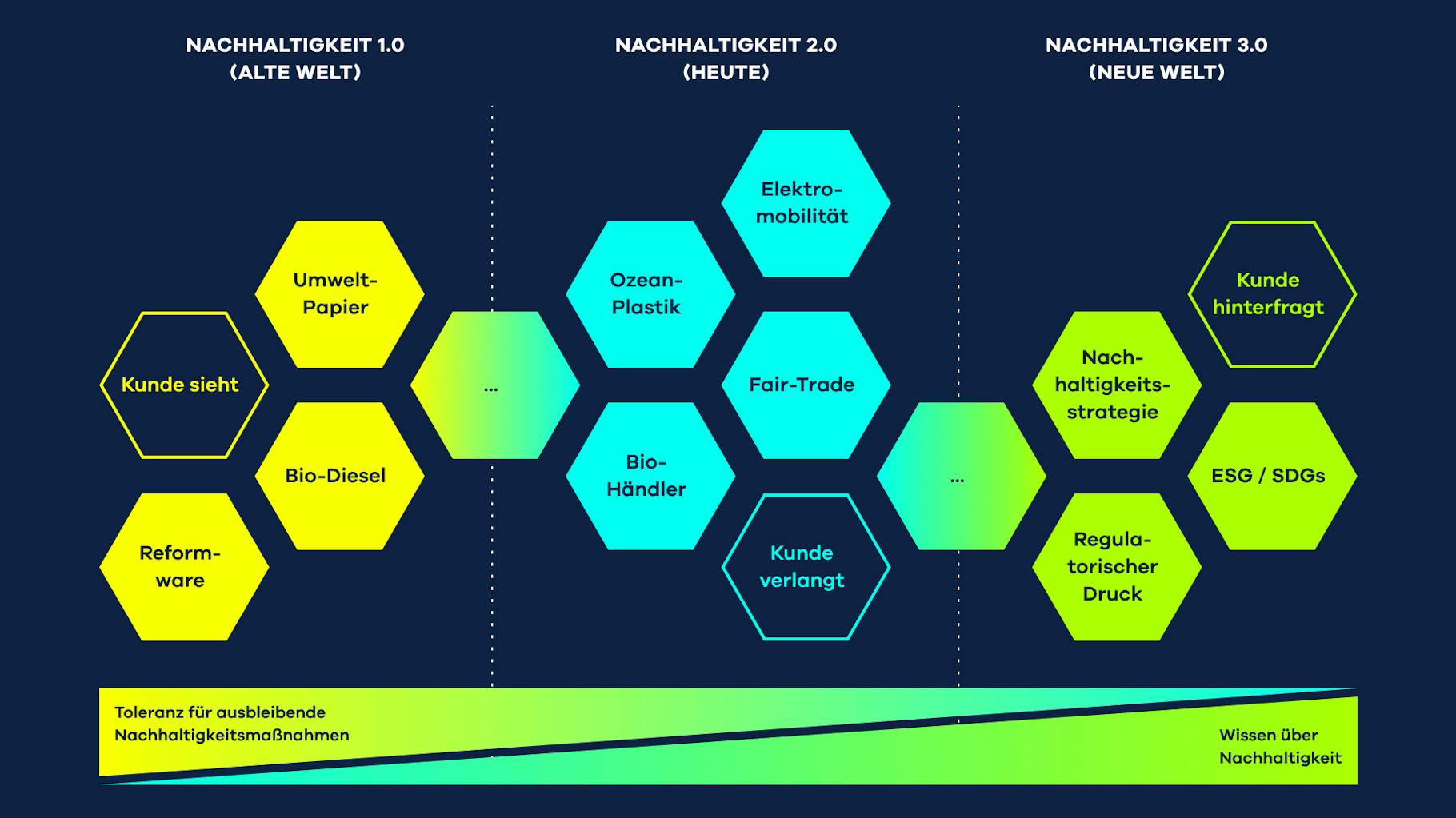 Keeping the stakeholders in mind
Business success results from outstanding products for the right target group, on the one hand. On the other hand, the new demands of stakeholders in terms of sustainability act as external drivers that can challenge or accelerate this success:
Sustainability is becoming more and more embedded in customers' purchasing decisions, throughout the entire process from production to the supermarket shelf.
Workers are looking for meaningful work ("a purpose") that, at best, helps overcome the challenges of our time. 
Investors want to invest their money in future-proof projects that integrate the issue of sustainability in the long term.
Civil society expects companies to take responsibility for their actions and the consequences of these actions.
Non-governmental organisations (NGOs) influence public opinion and expose greenwashing.
Governments are setting new political parameters for more climate protection and sustainable corporate governance.
Companies that don't have a sustainability strategy no longer have a strategy.
Book tip: Horst von Buttlar describes in his book "Das grüne Jahrzehnt" (EN: The Green Decade), published by Penguin, how companies manage the transformation
Take a strategically holistic approach
For successful integration, it helps to have an outside perspective and the right change management: With sound advice, sustainability strategy and sustainability marketing remain a challenge, but they can be mastered.   
As an agency for sustainability and as strategy and management consultants, we will support you in developing or improving your sustainability strategy and your sustainability marketing. Our experts can help you successfully implement your specific strategy and measures in your company.
What strategy and measures can achieve in your context:
We focus on your positioning as a sustainable company with our extensive know-how in sustainability.
We strengthen your positioning as a sustainable development partner, manufacturer and service provider.
We establish contacts with NGOs and well-known personalities in the field of sustainability.
We communicate the positioning of your sustainability management – visible and tangible for the internal and external world.
We see sustainability marketing not as compulsory communication, but as active and strategic action.
Claiming to be a sustainable company from one day to the next is implausible. It is much more about showing your stakeholders how ambitious and innovative you are in driving this issue forward in your company. For example, what interim goals you are achieving, what experience you have gained and how you have evolved from it.
We ask the right questions
How are you gearing up for the transition to a climate-neutral economy and what contribution are you making?
What do the fundamental changes brought about by the energy transition for your industry mean for your company?
How important is sustainability compared to profit and cost targets?
Do you have sustainable products in your core business or do you use them as drivers for new business areas?
What transition risks of a low-carbon economy do you see?
How will the type and direction of distribution of sustainable products be set up?
Should sustainability be integrated into the brand?
What are the consequences for product development, sales, risk management and reporting?
What do you need to report and by when?
What systems and tools can support and help here?
Are you a pioneer/innovator in your sector? Early adopter? Follower?
How does sustainability not become a hygiene factor with basic customer expectations?
What business risks and business opportunities do you see?
What are the profiling opportunities?
Do you think in entirely new ways? Or rather: "We are becoming a little more sustainable every day"?
And so many more...
We are familiar with the legal framework
Over the course of the next years and decades, we can expect many more new requirements and developments that we cannot yet anticipate today. Our experts always have their finger on the pulse of the times and always incorporate the latest findings and tools into their work.
Current legislation as an example:
In 2023, the German Supply Chain Due Diligence Act (LkSG) will come into force
In 2025/26, the new EU directive (CSRD) on corporate sustainability reporting will come into force.
A new draft directive of the EU Commission on Greenwashing (COM (2022) 143) is available.
We take a holistic approach
But if you look at the United Nations' Agenda 2030 with its 17 Sustainable Development Goals (SDGs) or the ESG criteria (Environmental, Social, Governance) from the investment sector, there is much more involved in a consistently sustainable company. This is why we work with a holistic approach in sustainability consulting that takes into account the sustainable transformation of all areas of the company.
This mindset is found equally across the different stakeholders. Some examples:
Tighter legislation
Legal requirements for companies to achieve the EU Green Deal are increasing
Policy focus is on climate protection, human rights and transparent reporting 
Higher customer expectations
Information on ambitious sustainability goals, strategy and measures is examined and critically scrutinised
Greater transparency in the supply chain is demanded
Technologies, products, services and activities should be in the spirit of Corporate Social Responsibility (CSR) 
New investor perspective
Sustainability is becoming an important indicator for risk assessment
The EU Green Deal serves as a driver for sustainability investments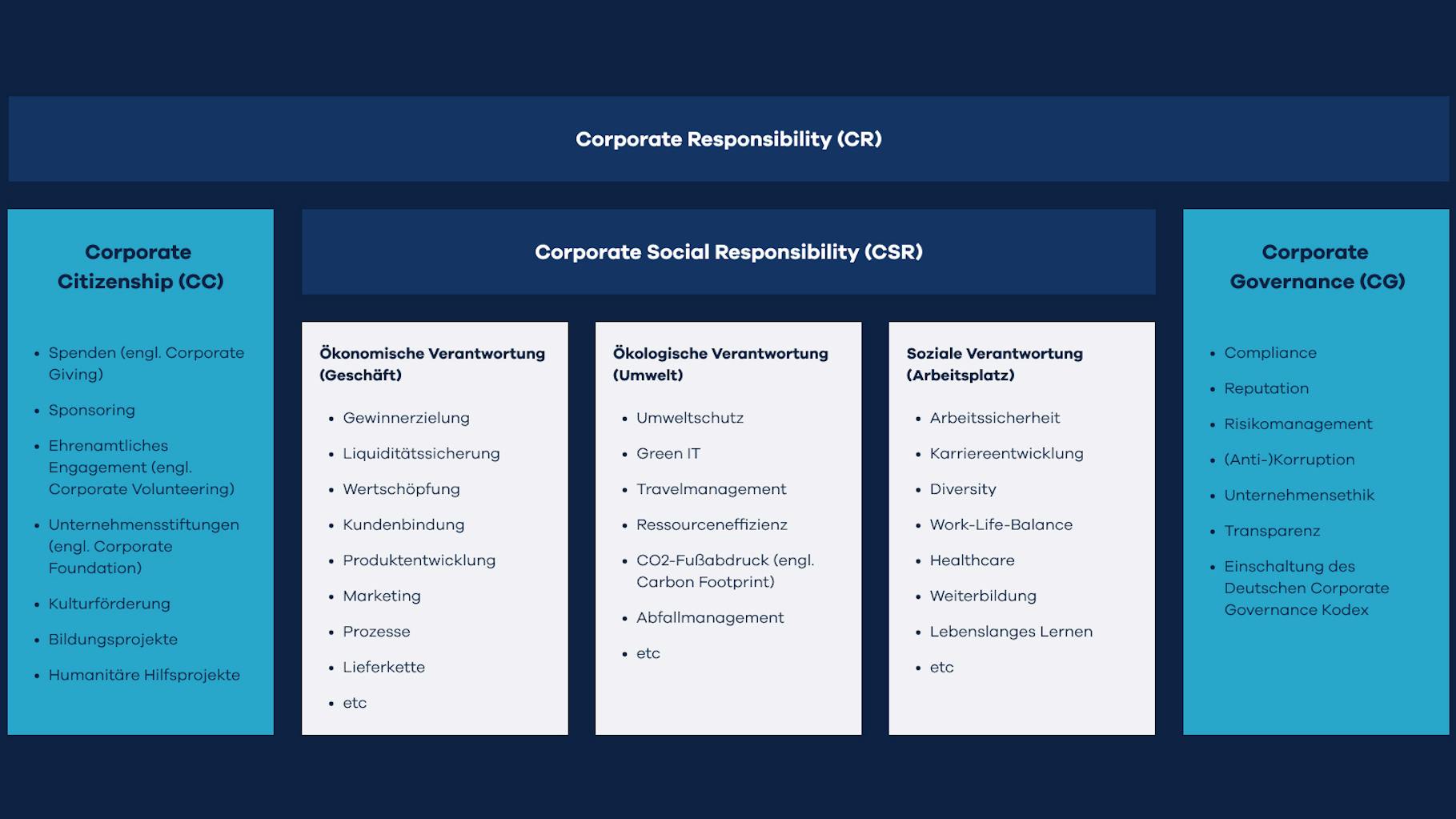 We develop sustainability strategies  
Many companies are primarily concerned with the following topics:
Sustainable production
CO2-neutral footprint
Resource-saving production
Use of recycled materials
Renewable raw materials
Recyclability and/or closed loop models
Local or regional production
Fairly produced at fair wages, free of child labour
However, we take a much broader view of the topic in line with our holistic approach. Because...
A good sustainability strategy also considers:
Sustainable corporate governance
Transformation processes
Corporate principles (equality, diversity, anti-corruption)
Internal communication and change processes
Employer branding
Sustainability ratings
Qualification programmes and company health management for employees
Safe, motivating and family-friendly workplaces
Social responsibility
Business models
A variety of technologies and systems provide a good starting point for achieving the following goals, for example, with a sustainability strategy:
Conserving resources
Avoiding waste
Reducing costs
Promoting sales and customer loyalty
Ensuring the future viability of the company
Increasing employee motivation and willingness to perform
Positioning the company as an attractive employer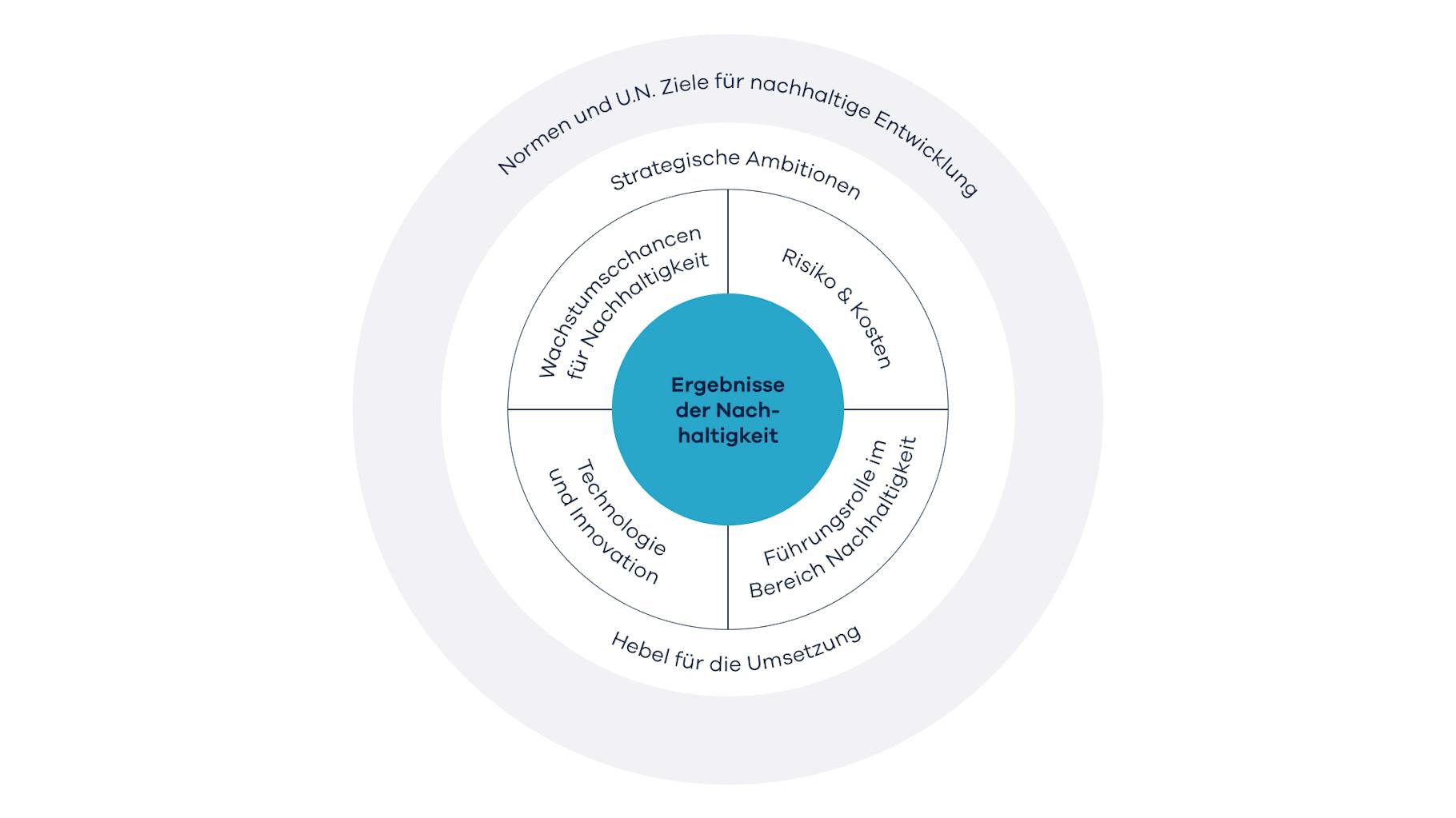 We implement sustainability marketing
With an integrated approach, with storytelling on all channels, a broad portfolio from PR and advertising in print and online, to trade fairs and events to sustainability reports.
Sustainable business activity unfolds its positive effect when it is also perceived as such by the relevant stakeholders – transparently, authentically and as free of contradictions as possible. Therefore, sound sustainability marketing and stringent sustainability communication are needed. On the basis of the Paris Climate Agreement and in an implementation that takes into account the UN Sustainable Development Goals, the Greenhouse Gas Protocol, the Science Based Targets Initiative as well as investment and compensation. Sustainability reports alone are no longer enough.Mit einem integrierten Ansatz, mit Story­telling auf allen Kanälen, einem breiten Portfolio von PR und Werbung in Print und Online über Messen und Events bis hin zu Nachhaltigkeits­berichten.
Our long-standing know-how in sustainability:
Sustainability strategy
Sustainability communication
Sustainability audits
Reputation management and corporate social responsibility (CSR)
PR and marketing support
20 years of experience in sustainability issues, e.g. in mechanical and plant engineering, in the food industry, in the tourism industry. Sustainability reports (GRI, DNK), brochures, sustainability websites, films and video streams, moderation.